Welcome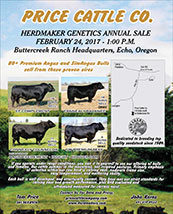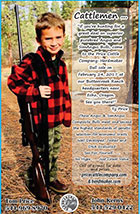 Herdmaker Bull Sale
February 24, 2017 - 1:00 PM
Buttercreek Ranch Headquarters
Echo, OR
12/21/2016 Update: We are ultrasound testing the bulls on December 29, 2016 and will also take DNA samples at that time. The bulls will continue on feed test at Lindsay feedlot until January 10, then come home for preparation for the sale on February 24, 2017. Bulls will be priced from $3,000-$5,500. All the bulls selected to be sold are structurally correct, semen tested, and guaranteed for our customers protection.
Price Herdmaker bulls are known for their functionality and performance. Since 1984 Price cattle have been especially mated for economic traits-easy calving, moderately framed cattle with superior early growth and carcass quality.
Herdmakers are purebred Angus and Composite SimAngus and Gelbvieh Angus seedstock. They have been produced using breed leading proven sires within their respective breeds. Maternal traits have been our primary emphasis. We say-produce great females first! Fortunately, genetic selection for maternal traits is not antagonistic to carcass quality. We can have it both ways.
Progress is made with strict adherence to genetic principals using breed leading proven sires. Success of our Angus Composites is due to the benefits of the known genetic components (within the respective breeds), plus the added benefit of hybrid vigor. These two coupled together is quite a bonus! However, I would like to emphasize that a "composite" or "hybrid" designation does not in and of itself make the animal better. The within breed selection of the traits of interest is what makes the breeding animal predictable. So don't compromise sound genetic principals--use within breed selection and hybrid vigor to optimize your herd's productivity.
Selection pressure within most of our client's cow herds is aimed at keeping cows moderate in frame and milk so that cows perform well under range conditions. Unless you are producing terminal cross calves, you do not necessarily want maximum size since the correlation between post weaning gain and yearling weight is high (.48). Therefore, maximizing feedlot gain is not always most economic if it results in producing replacement females that are too large and require excessive amounts of feed. One final thought I want to share with you, is that Price Herdmaker cattle are raised like commercial cattle. They are produced under range condition…not year 'round irrigated pasture. We feedlot test and evaluate each bull on a modest energy roughage diet because we know pushing the bulls to their highest potential gain can be detrimental to their foot structure and future semen quality.
We produce well developed, highly functional, attractive bulls is without compromise! Come see for yourself. Our bulls are reasonably priced based on their individual merit.
Price cattle winter on our Buttercreek Ranch headquarters near Echo, Oregon. This location produces winter feed, and includes our calving, feeding, and breeding facilities. Following branding and AI breeding, cows and calves move to mountain range pastures near LaGrande and Heppner, Oregon. Calves are weaned in August and September and cows remain until snow fall, when they are returned to Buttercreek.
Thank you!
Tom Price & family 541.969.8970
John Kerns 541.519.0422
Tom Price Jr. 541.310.0983
Wes Price 907.720.8900